Our Metal Culvert Products
With the various types of corrugated pipe products for metal culverts, you receive strength, durability and value that today's projects require. No other pipe material on the market today can match our versatility and value. We can build culvert lengths up to 50' in our galvanized, aluminized and polymer coated pipe. However, our arch culverts are typically built in sections 30' or shorter. Also, our asphalt coated pipe can only be built in sections of 40' or less.
Galvanized Pipe
Our metal culvert galvanized pipe is ideal for drainage systems, driveways and access roads. With a wide variety of diameters and lengths, our galvanized pipe can be used for projects ranging from storm sewers and culverts to infiltration systems.Galvanized pipe for metal culverts contains a zinc coating. This coating helps protect the steel. In addition, our galvanized pipe is advanced, strong and desirable in different situations.

Galvanized pipe from Metal Culverts of Navasota has many advantages, including the following: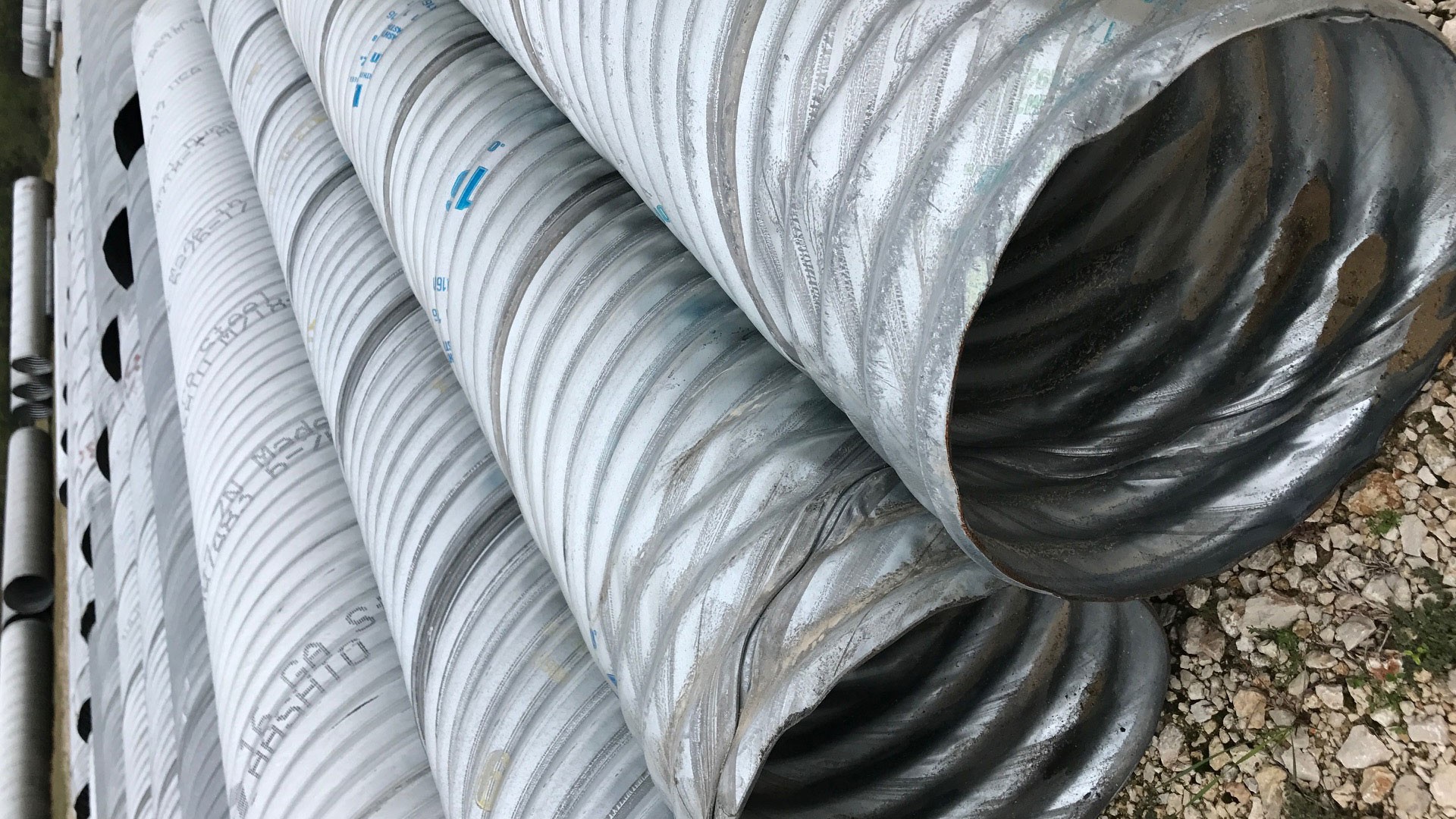 Long Life

with more than 50 years in many rural areas

Toughness

to resist damage during transport, assembly and service

Low Maintenance

because of its ruggedness and long life

Fast Assembly

as there's no need to prepare, paint or inspect the coating surface
50-Year Pipe
All of our galvanized pipe products are 50-year pipe. We stock galvanized pipe from 6" diameter through 96" in diameter. Also, 12"-30" diameters are available in 16' to 40' sections. In stock from 20'-50' sections, we have 36"-96" available.
Aluminized Pipe
With its substantially lighter weight and longer run lengths, our aluminized pipe offers numerous advantages. The lighter weight of our aluminized pipe translates into faster and easier installation, and the ability to use normal construction equipment already found on most jobsites for handling.Our aluminized pipe is ideal for municipal storm sewers, underground stormwater detention systems or any standard drainage project that must withstand alkali soils and erosive environments.

Aluminized pipe from Metal Culverts of Navasota provides numerous benefits, including the following:
Corrosion Resistant

so it can be used in alkali soils, salt water and erosive environments

Longer Lengths

for more accurate pipe alignment and faster installation

Less Excavation

due to the smaller outside diameter than reinforced concrete pipe

Lightweight

material offers easier and faster installation
75-Year Pipe
All of our aluminized pipe products are 75-year pipe, and are special order items. Our aluminized pipe carries the same weight tolerances and handling capabilities as galvanized pipe. Designed for better corrosion resistance in situations where acidic levels in the soil or water can create issues with standard galvanized culverts.
Polymer Coated Pipe and Asphalt Coated Culvert Pipe
Our corrugated steel pipe with heavy-gage polymer coating offers long-term protection for storm drains and culverts. Even under harsh conditions, polymer coated pipe protects against abrasion and corrosion to provide at least 100 years of service life. Polymer coating is a tough, rugged laminate that completely coats the inner and outer surfaces of corrugated steel pipe. Our polymer coated pipe provides a durable barrier that exceeds the corrosion and abrasion resistances of other coatings.

Advantages of polymer coated pipe from Metal Culverts of Navasota include the following: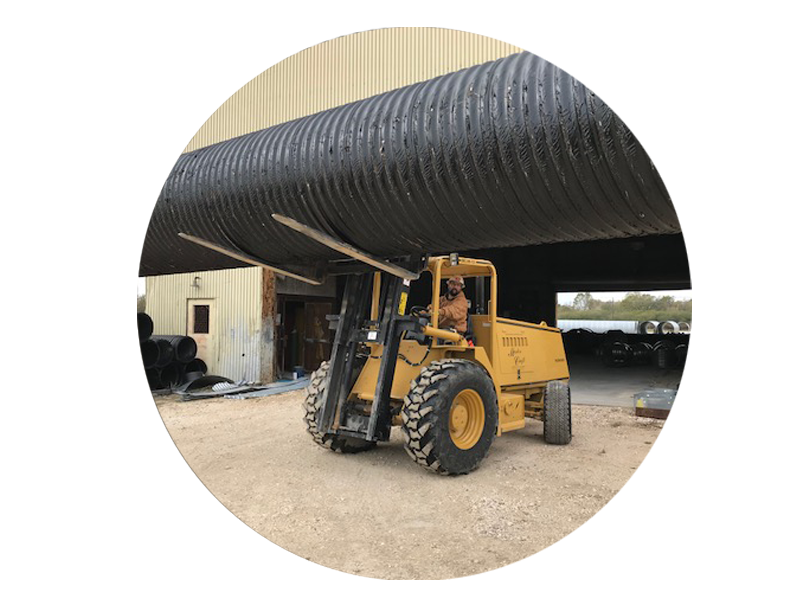 Corrosion Protection

due to the polymer film that provides long-term resistance to corrosion from acids, chlorides, sulfates and alkalines often found in the effluents of culverts and sewer systems

Abrasion Resistance

for long lasting service of your polymer coated pipe

Super Bonding

between coatings to minimize delamination and maximize coating integrity during the service life of your pipe
100-Year Pipe
All of our polymer coated pipe and asphalt coated culver pipe are 100-year pipe. These are the highest quality pipe in the culvert industry, as they can withstand corrosive elements in any environment. In addition, our polymer and asphalt coated culverts are special order items. They carry the same weight tolerances as galvanized and aluminized pipe, but do have some special restrictions when handling or unloading these culverts. Contact us for questions pertaining to these restrictions.
Arch Culverts
We manufacture a complete line of standard and specially designed reinforced metal arch culverts for various storm water applications. Our arch culverts allow for a lower profile while maintaining flow characteristics. It is good for installations with shallow cover.Our arch culverts have many uses, including culverts, storm drains, bridges, cut and cover tunnels, pedestrian and equestrian underpasses, golf cart crossings and underground vaults and reservoirs.

Arch culverts from Metal Culverts of Navasota provides many benefits, including the following: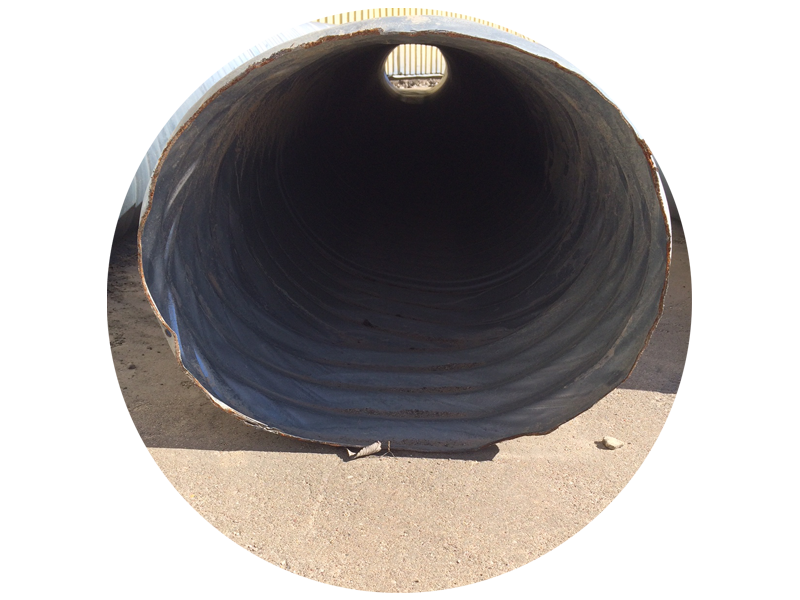 Greater Hydraulic Efficiency

as our arch culverts can span greater distances without the need for interior support walls

Faster Assembly

due to the use of advanced forming systems, form sections can be combined to rapidly construct structures of any length

Pleasing Aesthetics

which lends itself to many architectural treatments
Fabrication of Spillway Structures
Much of corrugated metal pipe's versatility comes from its ability to be easily adapted and fabricated to fit almost any situation. Fabrication of spillway structures for lakes and ponds.